Corporate Profile
Introduction of
EXEDY Vietnam Co., Ltd.
Greeting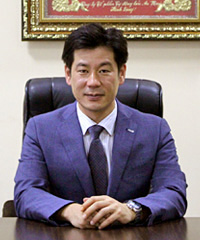 EXEDY Vietnam Co., Ltd. is a subsidiary of EXEDY Group in Vinh Phuc Province, which is about an hour's drive from the capital Hanoi. In order to respond to Vietnam's rapidly growing economy, we are currently manufacturing motorcycle clutches, and in February 2021, we celebrated the 15th anniversary of our establishment. These high-quality products are manufactured with the aim of satisfying each of our customers.
We at EXEDY Vietnam are proud to be a company where all of our employees demonstrate their true talent and work at their maximum capacity, and there is no divide between senior management and our associates. Always greeting one another with the Vietnamese 'xin chao', our company culture is one where everyone has a friendly smile.
We will continue to grow with the aim of becoming a company where employees are happy to work.
Kazuki Hayashi
President
EXEDY Vietnam Co., Ltd.